Jackson, TN Sheds & Portable Buildings
Premier Buildings of Jackson, TN
Portable buildings shield your belongings from weather elements along with enhancing your property in Jackson, TN, thus offering you a great return on investment for your hard-earned money.
Buying a portable building is a big decision as it will be delivered and set-up on your property, most probably next to your house. A wise decision will not just improve the view of your land but also add value to its price. We have identified your pain areas and your needs and they inspire us to offer the most affordable and premium quality portable buildings in Jackson, TN right at your doorstep with free delivery.
How Expensive are Portable Buildings?
You're ready to buy a portable building, but you're not sure about portable building prices in Jackson, TN? Portable buildings are among the most affordable types of structures, which often cost less than any other permanent buildings or storage units. Every portable building provides great value, but there is a difference in each building price that you buy based on various factors.
The most important ones are selecting the correct building type and dimensions that include the width and length. Apart from these common features, the extra elements that you add such as garage doors, walk-in doors and extra mobile home anchors based on the building foundation you select also affect the price of a portable building.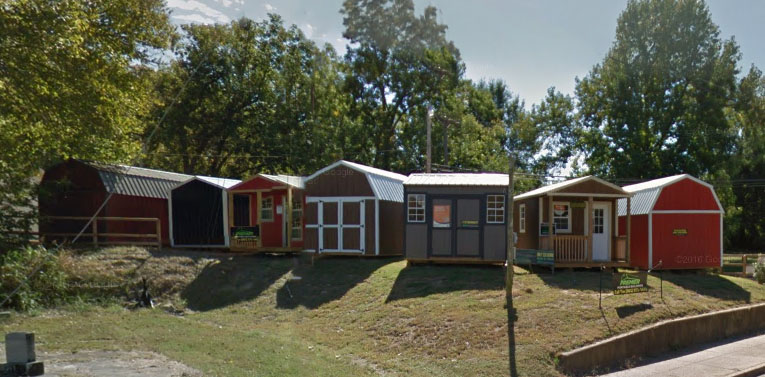 Get the Extra Space you Always Wanted
What are the Benefits of a Portable Building?
When you want to protect your personal belongings, portable buildings are highly recommended. Buying low maintenance portable buildings in Jackson, TN instead of squandering your money on expensive permanent buildings is a wise decision due to benefits such as:
Longer Life: Average life of a portable building is nearly about 15-25 years with low maintenance. Premier Buildings offer a 5 years craftsmanship warranty on every building we sell.
Design Flexibility: Premier's buildings are flexible and can be designed based on individual needs due to their flexible building pattern.
Customization: The custom-building options we provide include building size. Further, you can also add a roll-up garage door, walk-in door or a window in your building to enhance the aesthetics and create a quick way for you or your equipment to enter the building. Our customization options offer you the opportunity to choose the perfect portable building in Jackson, TN that suits your needs and can be customized in an affordable way that meets both your budget and requirements without having to settle for an expensive and maintenance-heavy alternative.
Damages: Our buildings are made from top-quality American products and these buildings don't get damaged easily.
Placing your Premier Order
Our building experts will help in identifying your purpose for the building and advise the best for your needs. Once you identify the important elements of your building, you can select the color and additional options of your portable building and you are ready for the purchase in Jackson, TN. We will quickly process your order in easy steps and complete your top portable building purchase.
Look no further if you are looking to buy or rent-to-own a portable building. Trust the name; Premier Buildings and order your building today!